Event Phone: 01890 750099
8th December 2017
8:00 pm - 10:00 pm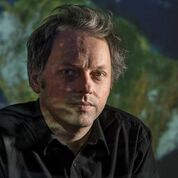 Enchanted Tales is a performance featuring new music by Graeme Stephen and innovative musician Lizabett Russo. The music is written to and will accompany a screening of a silent film based on fairy-tale films from the 1920's.
"Stephen's daring writing and willingness to complement conventional lyricism with sonic experiment makes for a powerful experience, fiercely driven at times but often subtly impressionistic, with rock and folk influences and electronic effects all judiciously woven into the soundscape" – Kenny Mathieson, The Scotsman
Scotland-based singer-songwriter Lizabett Russo merges her native traditions with elements of contemporary jazz, avant garde folk and world music, a range of influence effortlessly spanned by her powerfully versatile voice.
In 2013, Lizabett self-released her EP entitled The Traveller's Song, which found favour with online publications from across Europe, the US and Canada. Her stock across Europe is high, having played shows in Amsterdam, Zurich, Barcelona, Paris and Bucharest while her presence in UK led to supporting acclaimed musicians such as Rachel Sermanni, Rozi Plain, Tim Edey and Trembling Bells and playing at some prestigious festivals such as the Cambridge Folk Festival and Celtic Connections.
​IronStar Films have selected 2 of her songs to be played in an independent short movie called 'Bloodloss'. The movie has received special mentions at independent film festivals in Los Angeles, Calgary, Marbella and Melbourne and Ontario.
In 2015, Lizabett toured Japan and Seoul promoting her debut album 'Running with the Wolves' and she was back in Asia in 2016 with another tour promoting her new album 'The Burning Mountain'.
​"This is simply world-class work, by any standard" 
Tom Robinson, BBC Radio 6