Event Phone: 01890750099
We're sorry, but all tickets sales have ended because the event is expired.
21st January 2020




8:00 pm - 10:00 pm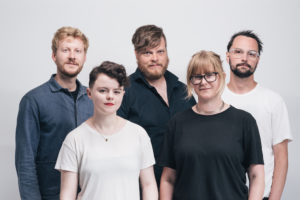 2019 JUNO AWARD NOMINEES FOR INSTRUMENTAL ALBUM OF THE YEAR!
In a world where hyphenated genres are becoming the norm, all kinds of monikers are available for a contemporary folk band – post-folk, trad-core, alt-roots. File under World, or file under Celtic? Aerialists fits best with the beautifully contradictory term prog-trad, melding their ferociously creative harmonic sensibilities with a deep love for folk traditions. The transatlantic quintet draws from the wells of Nordic and Gaelic music, adding expansive post-rock textures and meticulously sculpted arrangements to create captivating, genre-defying new music.
Nominated for a 2019 JUNO Award for Instrumental Album of the Year and a 2018 Canadian Folk Music Award for Emerging Artist of the Year, their new album Group Manoeuvre is a powerful collection of neo-folk compositions and imaginative arrangements of traditional material, with haunting guest vocals from Emily Millard.
"Group Manoeuvre is a dazzling display of stellar musicianship, inventive arrangements, and genre-melding music inhabiting a world of its own." -Folk Radio UK
Aerialists formed in early 2014 when long-time collaborators Adam Iredale-Gray (Fish & Bird) and Elise Boeur (Jenny Ritter) joined Màiri Chaimbeul (Darol Anger & The Furies) at Berklee College of Music in Boston. Their eclectic musical sensibilities and intuitive instrumentation create an engaging tapestry of sound packed with depth, emotion and history. Their debut EP was released in 2016, and their full-length album Group Manoeuvre was released on September 19th 2017 on on Fiddlehead Records, accompanied by Canadian and European album release tours.
"Group Manoeuvre… is cunning, exhilarating and at times almost emotionally overwhelming" – Words On Sound
Raised in a family of artists and musicians on the remote Isle of Skye, and now in-demand in throughout Europe and North America, award-winning Scottish harpist Màiri Chaimbeul combines a deep-rooted sense of Gaelic tradition with a distinctive improvising voice and honed classical technique.
A founding member of critically acclaimed Canadian indie-folk band Fish & Bird, Adam Iredale-Gray has been touring hard for the past 9 years. His writing style draws on the formative Irish sessions of his youth in Victoria, as well as contemporary folk, jazz and pop influences such as Oliver Schroer, Brad Mehldau, and Bon Iver. His tunes have become part of the standard repertoire in Western Canadian fiddle circles.
Vancouver-born fiddler Elise Boeur immersed herself in traditional music in Ireland as a youth, later moving between jazz schools in North America and Norwegian folk music college deep in the mountains of Telemark. She has brought her sonic sensitivity and passion for folk traditions to a staggering variety of projects, from alt-folk Canadiana to prog metal.
Working with an array of exceptional bassists (Nate Sabat, Wynston Minckler, Charles James) and drummers (Jake Jenne, Sean Trischka, Steven Foster) who share their fascination with craft and harmony, Aerialists create an imaginative, evocative and wholly original sound.
"A veritable (prog-trad) folk super-group whose next moves promise to be extraordinary" -Folk Radio UK