Event Phone: 01890 750099
We're sorry, but all tickets sales have ended because the event is expired.
20th November 2018




8:00 pm - 10:00 pm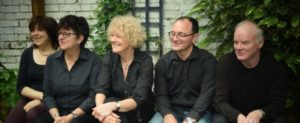 In ARQ, Alison Rayner has gathered a group of fine musicians who sympathetically support her music: Steve Lodder on piano, Deirdre Cartwright on guitar, Diane McLoughlin on saxophones and Buster Birch on drums. The group's imaginative and assured playing are superbly suited to Rayner's compositions and reflect a confidence inspired by working intensively together.
"In a Jazz age with an abundance of technical excellence – and ARQ have it in great quantity – we look for something else as well. ARQ bring to the stage a musical bond that is expressed in such fun and joyful moments that it is a pleasure to be in the room with them. Jazz of the highest quality."  Phil Rose, Birmingham Jazz
A Magic Life is bursting with melodic and harmonic references from jazz, classical and folk musics. Rhythmic grooves and great solos abound. Rayner cites both Charlie Haden and Eberhard Weber as influences – but there is always a strong sense of Rayner's musical personality evident in the poignant folk-inspired melodies, rootsy grooves and improvisational invention.
Listen to album tracks and read full reviews HERE
'I was inspired to call the album A Magic Life because of two recent incidents. The loss of a friend last year, who wrote in her own epitaph about how magic her life had been; then a chance encounter with a young boy, who asked me "Is music stronger than magic?" I replied that to me, music is a merging of magic and logic. These events set me on a course of thinking about connections between memory, mortality, magic – and music.'
"Inventive, richly nuanced and vibrantly colourful, possessed of a strong narrative and cinematic quality." Ian Mann thejazzmann.com
Described by the Guardian as 'spirited, eloquent and graceful' and by the Observer as'a beautifully integrated band', their music is inventive, vibrantly colourful and unfailingly melodic, possessed of a strong sense of narrative and cinematic quality. Their combination of richly nuanced compositions – frequently inspired by personal experience – with folk-infused grooves, skilful musicianship and a love of improvisation, creates a compelling and coherent whole.
"A master-class in empathetic playing with superb solos and a rhythm section of the highest calibre. Don't miss these virtuoso musicians when they come to town." Phil Webb, Restormel Arts, Cornwall
They have built a substantial and wide-ranging audience, receiving national and international radio play and four and five star reviews in jazz and national press. Their recent 35-date 'A Magic Life' UK tour, supported by Arts Council of England, concluded with a sell-out night at the Soho Pizza Express Jazz Club.
ARQ will be playing Festivals including Swanage and Brecon this Summer, touring in Germany in September and in Scotland in November.