Event Phone: 01890 750099
12th August 2018 - 27th August 2018




10:30 am - 4:00 pm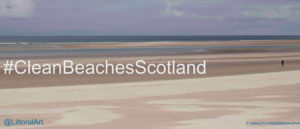 In 2012 I walked onto a beach on the North-West coast of Scotland so thick with mounds of litter that I feared drowning in it. Since then I have surveyed and mapped litter on over a hundred beaches. I have collected thousands of samples and created exhibitions & events which have engaged local communities & highlighted the nature & volume of plastic pollution.
Plastic is a wonderful, extremely useful material that is widely used, but our overuse & careless disposal is creating massive environmental problems for marine life and causes the death of many thousands of fish, birds & mammals.
It is estimated that 13 million tonnes of plastic enter our oceans every year and that by 2050 there will be more pieces of plastic than fish in the sea.
Every piece of plastic that appears on our beaches embodies energy. Embodied Energy is the energy that is consumed by all of the processes associated with the production of the plastic.
I am convinced that art can make a difference!
I want to make a series of sculptures from plastic beach litter to help highlight how beach litter is wasting finite oil & gas resources. I intend to make multiple large CUBES using plastic beach litter.
Julia Barton
Exhibition opening hours
Tues – Sun 10.30am- 12.30, 2.00pm – 4.00pm
(Other times by appointment.
Artist's talk: Tuesday 21st August from 5.30pm – 7.00pm. All welcome