We're sorry, but all tickets sales have ended because the event is expired.
13th December 2019




8:00 pm - 10:00 pm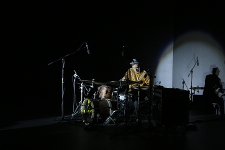 Described by Rolling Stone magazine as "one of the best, robust listening experiences you're likely to have all year" and by The Independent as "the best in jazz coming out of Ireland today", MOBO Award-nominated David Lyttle shifts seamlessly between the personas of jazz drummer, composer, producer and record label owner. Starting out as a child performer at the age of four with his family band, he first reached a national audience as a jazz drummer in the band of legendary Irish jazz guitarist Louis Stewart, before going on to perform around the globe and collaborate with music world's upper echelon, from jazz giants Joe Lovano and Kurt Rosenwinkel to hip hop visionaries Talib Kweli and Soweto Kinch. He has received nominations in the MOBO Awards and Urban Music Awards, and major radio play on specialist radio and mainstream radio.
David has brought his unique performance concepts to the U.S., where last year he carried out a coast-to-coast residency in his red Cadillac DeVille, performing jazz for cowboys, UFO tourists, bikers and the unsuspecting public; and China where he spent six weeks as the British Council's Musician In Residence and made a further two visits with his solo drums show this year. David's work has been written about in Rolling Stone, The Guardian, The Times, The Independent and The Examiner.
…genre-spanning…sophisticated and sharp…one of the best, robust listening experiences you're likely to have all year." 
– ROLLING STONE (on Faces)
"…the best in jazz coming out of Ireland today."
– THE INDEPENDENT
"…infectious…hypnotic, soulful and terrifically rhythmic. One of the most inventive Irish releases of the year."
– HOT PRESS (on Faces)
"…ambitious in its distillation of folk and urban, acoustic and electric, pop, jazz and rap sources…huge variety in sound and tone…Lyttle achieves musical coherence all the same…an impressive achievement…"
– JAZZWISE (on Faces)
  "New Orleans funk, uber-catchy pop and gospel-tinged soul rubbing shoulders with smouldering jazz improvisation and contemporary urban rhythms and vocals…Potentially the feel-good cross-over album of the year." – ALL ABOUT JAZZ
(on
Faces)
"…classy…slick…exceptional…"
– MOBO (on Interlude)
"…exceptional…incredible…soulful…"
– DAILY MIRROR (on Interlude)
"…splendid…a retro blast from the past."
– RTE (on Interlude)
"…a veritable one-man industry…every indication of being the most curious, inventive and niche-averse artist in the country. [Interlude is] beautifully-produced…stellar. A rare sort of treat to come out of Ireland. Superb."
– HOT PRESS (on Interlude)