Event Phone: 01890 750099
We're sorry, but all tickets sales have ended because the event is expired.
14th March 2019




8:00 pm - 10:00 pm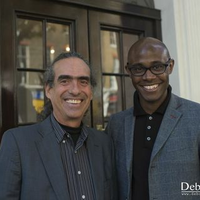 We're pleased to announce the welcome return of Eduardo Martín and Ahmed Dickinson, two fine guitarists who won the hearts of the audience when they played here in March 2018.
When Cuban guitarist Ahmed Dickinson Cárdenas first heard the music of fellow countryman Eduardo Martín he felt euphoric. Martín's style has an expansive sense of freedom that taps into pre Columbus traditions, jazz, flamenco, pop, Afro and traditional Cuban. The guitar is his favored instrument to mirror the melodic and rhythmic intricacies of the Americas' cultural diversity.
Before moving to England, Dickinson Cárdenas took lessons with Eduardo and their friendship, idiosyncratic empathy and mutual respect has since transformed into a vehicle that connects, incorporates and juxtaposes their different generations.
The mixture of the virtuosity and the emotional and soothing quality of the works they perform characterizes Eduardo Martín and Ahmed Dickinson's concerts. The audience is captivated from their first note to the last by their command over the instrument and the often-intricate instrumental pieces. The music played during each concert is a very meticulous selection of works by Eduardo Martín. Eduardo Martin's music is currently recorded and performed by top guitar performers worldwide such as Los Angeles Guitar Quartet (LAGC), Iliana Matos and Shin Ichi Fukuda. A Grammy award nominee, his creations seamlessly blend classical, Latin American, contemporary and Cuban languages gaining him a great acclaim from both the critics and public in general.