Event Phone: 01890 750099
We're sorry, but all tickets sales have ended because the event is expired.
29th May 2017




8:00 pm - 10:00 pm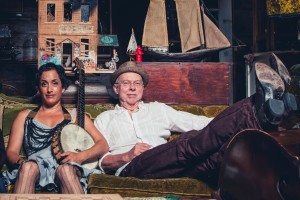 Based in Oakland, California, multi-talented singer, songwriter, clawhammer banjo player and step-dancer Evie Ladin grew up surrounded by traditional folk music. Playing banjo from the age of 8 and clogging since she was just 5, Evie is steeped in traditional Appalachian music and dance, but also brings an urban edge and contemporary vision with her original songwriting and her work in percussive dance. A sensational live performer, Evie was formerly the driving force behind San Francisco stringband The Stairwell Sisters and since 2010 has released three albums under her own name.
Trained as a jazz drummer, talented musician & dancer Keith Terry takes care of percussive duties on double bass, cajon and more, and joins Evie in dance elements of the duo's shows. Founder of the International Body Music festival and a skilled proponent of the art, Keith has performed at prestigious venues across the world. He and Evie met on the dance floor, and they live a double life between the folk/Americana circuit and the body music scene they helped create – both elements are beautifully integrated into their live show.