We're sorry, but all tickets sales have ended because the event is expired.
20th October 2019




4:00 pm - 6:00 pm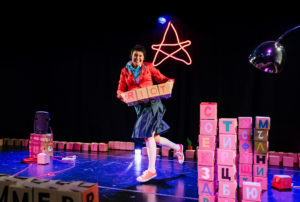 Home isn't a place, it's something we make…
2019: Thirty years after the Cold War, Britain faces departure from the European Union and a turning point in history.
1989: As the Berlin Wall falls, a young girl looks to a future beyond communism, a couple's love story unravels and 80's television permeates all. A story of breaking free, breaking up and building a future.
In Fallen Fruit, multi-award winning Two Destination Language bring to life the childhood memories of Bulgarian born Katherina Radeva, in a visually rich show full of extraordinary energy, playfulness and 200 cardboard boxes.
'Charming…Radeva's stage presence holds it all together' Guardian
'A delicate show about tearing down walls and living with the past' Lyn Gardner
About The Company
Two Destination Language makes intercultural dialogues in theatrical forms. Led by artists Alister Lownie and Katherina Radeva, the company creates award winning devised contemporary theatre and large community projects which tour around the UK and internationally.
Visually stunning, their work deals with identity, cultural boundaries and belonging. Alister's Scottish heritage and Katherina's Bulgarian background led to this interest in how cultures interact, develop and are defined.
Often working from biographical starting points, they create emotionally and intellectually stimulating experiences relevant to contemporary society.
Theatre changes people. It makes us think, talk, reconsider. The company's work has liveness at its core, and includes installations, intimate performances, community engagement projects as well as stage performances.