Event Phone: 01890 750099
We're sorry, but all tickets sales have ended because the event is expired.
24th October 2018




8:00 pm - 10:00 pm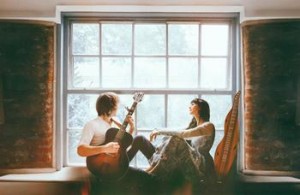 Huddled round a single microphone, singing intimate duets with just mountain dulcimer, dobro and guitar Hannah Sanders & Ben Savage are a folk duo that look & sound classically timeless, yet feel refreshingly unique. A chance meeting at their local Black Fen Folk Club in Cambridge uncovered Hannah and Ben's shared musical passions and sympathies, that over time has developed into a unique and intimate show of American roots and English folk music.
Fleetingly, they may evoke a memory of Gram & Emmylou, Shirley & Davey, or Gillian & David but their warm distilling of influences from both sides of the Atlantic produces a refined sound that is decidedly their own.
Their unique unplugged presentation creates a widescreen, cinematic soundscape with open spaces and atmosphere, giving their beautifully pure vocals room to share the songs' emotion and narrative.  The material is as joyful and fun as it is intense, but the common factor is the duo's warmth and confidence in each other; their natural ease and connection is clearly evident on the recorded music, and a genuine pleasure to witness on stage.
'This is folk music for everyone – a master-class in proficiency, an exercise in individuality and a declaration of love of the folk tradition from both sides of the  Atlantic' ★★★★★ Spiral Earth 
'Spellbinding… Hannah and Ben were born to play and sing together' FRoots 
'It has all the intimacy and intensity of closely watching a master craftsman working fine jewellery. I could list the songs and map out each with the necessary superlatives – but really you should just go and see them. I have to insist on that. It's folk music – it has the heritage and the songs evident – but it has a quality and depth to the arrangements and performance that means it easily transcends the constraints of any preconceptions.' From the Margins 
'Their performance is perfectly honed, faultlessly presented and demonstrates that they are clearly a match made in musical heaven. The songs are filled with messages of hope and promise, all delivered in a stripped down sound, which takes you on a journey into the minds of this duo… The dynamic between the duo is electric and their eclectic mix of music is refreshing, we were treated to new tracks from their album as well as their own favourites.' The Atkinson, Southport