Event Phone: 01890 750099
We're sorry, but all tickets sales have ended because the event is expired.
31st May 2019




8:00 pm - 10:00 pm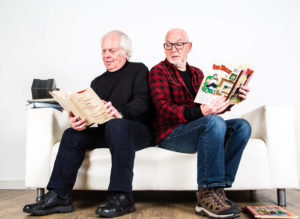 It has been remarked that they are an unlikely duo. Born in Aberdeenshire (St Cyrus), and raised and schooled in Angus, with half his working life spent in the Scottish Borders, Hector has a vast background in folk music, including festival and club organiser, writer and performer. Since 2013 he has lived in the Midlands where he met Chris.
Chris is of Welsh/Cumbrian parentage and is a talented multi-instrumentalist playing guitar(s), mandolin, fiddle, mandola, concertina and accordion. His long-term relationship with music includes playing and absorbing musical styles from Shetland, Scandinavia, France, Scotland and from Ireland where he lived for several years.
In a short time the duo has guested at clubs and festivals, including the Sidmouth Folk Festival, Shepley Spring Festival, Kirriemuir Heritage Association, Alrewas Arts Festival, Lichfield Festival of Folk (L2F) and ANGUSalive – in Venues ranging from Public Halls and Museums to Churches.
VIOLET JACOB (1863-1946) is no mere fossilised historical chronicler of her time, but a great writer whose words are as relevant now as they were before her ink dried. She does not need a hagiography, but her words do need to be out there in the world where they belong: our aim in song selection and musical approach is to enable those words to shine through and be enjoyed -they deserve no less.
She was a novelist, short story writer, diarist, botanist and above all a poet. Her poetry is often direct, revealing the everyday world in extraordinary detail, whether she is describing a neglected farm, cold haar creeping through the street or the comically baffled fury of a rejected suitor.
There's a more darkly mystical side, though, that glimpses a world beyond the familiar, where ghosts come home at Halloween or wraiths haunt the sleepless thinker. Where she combines these worlds as in 'Craigo Woods', she intensifies the effect by using what has later been called "echoes of the unspecific" so that certainties remain elusive.