Event Phone: 01890 750099
We're sorry, but all tickets sales have ended because the event is expired.
30th November 2019




8:00 pm - 10:00 pm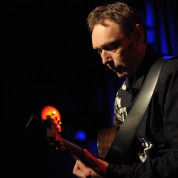 We're really pleased to be able to welcome guitarist, John Goldie back to the Hippodrome. John is without doubt a world class acoustic guitarist, incorporating a wide range of influences including jazz, blues, Celtic and funk. The press quote One man acid jazz band goes a little way to describe this remarkable musicians ability to combine bass, chords, melody and groove together with apparent ease, thrilling audiences worldwide.
John started playing at the tender age of 6 when he asked his parents for a guitar, which was a surprise to them as they are not musical!. He started learning chords from books and found a fascination in electric guitars as well as a love of rock music. By the age of 13 he was playing in several local bands as he was able to play all the rock classics, including the solos, perfectly. It was also around this time that John found it frustrating that he was unable to read music, so he decided to find a guitar teacher. In Frank Henry, John not only found a teacher but a mentor that would have an immense impact on his musical future. Frank taught him how to read music and understand harmony which was to prove crucial in later years.
By the time John had left school he was already earning a living from music by playing guitar in local function bands, and it was during one of these gigs that he was spotted by an agent who booked shows for Motown acts from the USA touring in Europe. This led to John touring with several of the labels artists over the next few years.
John's musical career was about to take a radical change of direction after a chance meeting with Jazz guitarist Martin Taylor. After seeing Martin playing with legendary violinist Stephane Grappelli on TV, he decided to see the pair perform in Glasgow and was invited, much to his surprise, to Martin's house. This led to John touring with Martin as a duo and eventually as part of the band Spirit of Django. He also worked for Andrew Lloyd Webber around this time touring with his show Jesus Christ Superstar. During that period on the road, John starting playing and writing on the acoustic guitar. The resulting demos found their way to Germany and into the hands of record label owner Peter Finger who invited John over to Germany to record a cd at his studio, which turned out to be 'The View from Here', his first solo cd.
John subsequently signed to Scottish label Watercolour Music and has released 4 albums for the label, 'This Time and Place', 'Open 4 Closure', 'Picked In the Past' and his new album 'Chocolate Maze'. Both 'Chocolate Maze' and 'Open 4 Closure' features John with his band, showing a different side to his playing while 'A Little Of What You Fancy' and 'Picked In The Past' features reworkings of classic rock ad pop songs, arranged for acoustic guitar by John. The albums have received a string of 5 star reviews and even won praise from Ronnie Woods, Brian May and Andy Fairweather Low.
John is now recognised as one of the most revered players on the acoustic circuit undertaking worldwide tours, taking in USA, Asia and Europe as well as collaborating with some of the world's greatest players, including Tommy Emmanuel, Ike Isaacs and George Benson. In fact George asked John to play a private concert for him and his band after one of their concerts in Scotland. John was also asked recently to play with The Faces at the Royal Albert Hall which he described as 'a surreal but amazing experience!'
John also has a long working relationship with AER amps, Martin guitars and Picato strings. He regularly plays at trade shows across the world as an endorser for these companies.
For the guitar geeks, John plays a Martin 0M28V and use an AER colouriser D.I box and T Rex Reverb pedal in a live situation. He also uses Wegen picks.