Event Phone: 01890 750099
7th September 2017
8:00 pm - 10:00 pm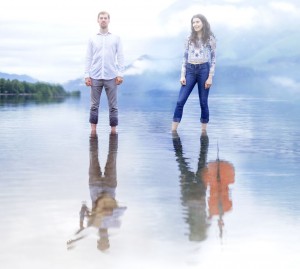 Karmana
"Thacker is a classical guitarist of consummate skill, intuitive musicality and impressive agility in his dexterous finger work."  The Scotsman
"Thacker's performance was a veritable tour de force that took the breath away."  Rainlore's World of Music
"Thacker…is now one of the UK's leading classical guitarists – and, as well as having the instrumental mastery to play demanding pieces with apparent ease, boasts a disarmingly natural and entertaining presentational style."   Glasgow Herald
"A journey through genres, histories, cultures and philosophies… remarkable, powerfully energetic" Elsewhere (New Zealand)
"The interaction between the guitar and cello is flawless, as if Justyna Jablonska's cello becomes an extension of Thacker's guitar…This is the music of a guitarist not satisfied with the status quo, and not only looking to improve on his instrument, but also seeking to expand the musical possibilities of the guitar." Classical Music Sentinel (Canada)

Guitar virtuoso Simon Thacker's duo with the outstanding young Polish cellist Justyna Jablonska performs compelling new music which distills the essence of Simon's pioneering intercultural experiences to create new soundworlds. Their current programme is Karmana. They also collaborate with leading performers from diverse traditions.
Karmana is Sanskrit for "performing anything by means of magic" and the programme is informed by the belief in the mystical, transformative power of sound. Karmana draws on elements from classical, Indian, Celtic, Balkan, Flamenco, Eastern European Gypsy and Polish music in the pursuit of new instrumental paths. The result is new music of a rare emotional directness, spontaneity and inner searching, embracing the incredible sonic palette of guitar and cello.
Simon and Justyna just released Karmana, their Creative Scotland supported debut album, which also features special guests Karine Polwart (Scots song), Sarvar Sabri (tabla) and Masha Natanson (Roma song). A trio programme with tabla has also performed at the Brighton, Isle of Man GuitarFest and Sound Festivals.