Event Phone: 01890 750099
We're sorry, but all tickets sales have ended because the event is expired.
21st June 2017




8:00 pm - 10:00 pm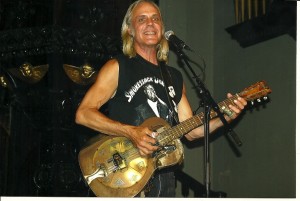 Kent was born in Wyzata a town in Minnesota & was taught to play ukulele, guitar & clarinet by his father by the age of 11. He later learned to play piano & electric guitar at school. He played in a local band with school friends performing 60's music. While reading the sleeve notes on an Eric Clapton album he was intrigued to find out more about Blues
music & eventually he opened up for & performed with many of the greatest Bluesmen &
women, including Muddy Waters, Howlin' Wolf, Bukka White,John Lee Hooker & Margie Evans.
In 1979 Kent found his beloved "Leadbessie" a beat up 1934 National Steel guitar & kitted it out with heavy gauge strings to cope with his ferociously powerful playing style. He decided to move down South to be nearer to the roots of the Blues music he now embraced. Kent now lived the "Blues Life" riding the rails & running the roads, living in an old Cadillac then a tent & a motorhome playing venues all across the U.S.A playing nearly every night.
1989 Kent met & established a partnership with the legendary Bluesman Johnny Shines
( a travelling companion of Robert Johnson "King of the Delta Blues" ) Together with harmonica great Snooky Pryor they were honoured with the coveted W.C.Handy award
for the best country Blues album of the year. Kent & Johnny performed over 200 shows together across North America, while Kent also continued his solo career.