Event Phone: 01890 750099
We're sorry, but all tickets sales have ended because the event is expired.
15th September 2018




8:00 pm - 10:00 pm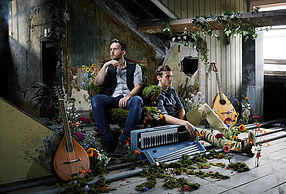 NINEBARROW are a multi-award-winning folk duo, who are impressing audiences across the country with their innovative and captivating take on the folk tradition. Described by Mike Harding as sounding 'damn fine' and by Kate Rusby as 'absolutely amazing', Jon Whitley and Jay LaBouchardiere combine breath taking vocal harmonies and melodies, delivering original songs that are inspired and rooted in the landscape and history of the British Isles. As well as crafting unique and engaging original material, Ninebarrow also take a wide-range of traditional folk songs and rework them in their own, distinctive way. Not only exceptional singers and musicians, Ninebarrow are also equally passionate about the stories behind their songs  – combining their music with history, folklore and storytelling.
​The duo were nominated in the 2017 BBC Radio 2 Folk Award 'Horizon' category for Best Emerging Artist and also for 'Best Duo' in both the Fatea Magazine Awards 2016 and the Folking.com awards of 2017. In March 2017, the duo were invited to perform a live session on Mark Radcliffe's BBC Radio 2 Folk Show, where the presenter described their singing as 'A rather lovely thing…like two halves of one voice'.
Most recently, Ninebarrow's second album, 'Releasing the Leaves', was released to wide-spread critical acclaim. Recorded and produced in the duo's own studio and mastered by Mark Tucker (whose other credits include Show of Hands and Fairport Convention) the album received a raft of stellar reviews including five stars in both Maverick Magazine and the English Dance and Song Magazine produced by the EFDSS. Receiving airplay on national and regional radio stations across the UK, including the multiple plays on the BBC Radio 2 Folk Show, it was described by Suzi Klein on BBC Radio 3 as demonstrating the duo's harmonies 'to perfection'. It was also awarded four stars by The Telegraph and listed in the paper's Top Folk Albums of 2016 as well as featuring in several other 'Best Albums of 2016' awards lists.
 'Exquisite harmonies: apt, appealing and pitch-perfect.​' R2 Magazine
 Following the critical acclamation that the duo have received, they've been in high demand and have been receiving bookings at a plethora of folk clubs, music venues and festivals across the country. As well as headlining in their own right, Ninebarrow have also provided support for some of the folk greats, including Kate Rusby, Seth Lakeman, Show of Hands and Fisherman's Friends. They were selected by Cambridge Folk Festival as one of five 'showcase' artists in 2016 and were described by the festival  as being a group destined for 'great things in the future'.
 'What an immaculate affair this is – beautifully performed' EFDSS Magazine
 Engaging, charismatic and humorous – Ninebarrow are winning new fans wherever they go. See them live, and you'll quickly understand why.