Event Phone: 01890 750099
We're sorry, but all tickets sales have ended because the event is expired.
28th October 2017




8:00 pm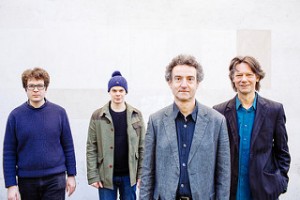 Philip Clouts Quartet
The dancing exuberance of South African Township music, the convivial groove of gospel-influenced soul jazz, the joyful sway of Cuban guaguanco rhythms, the bluesy melodies of middle eastern praise songs and so much more all come together in pianist Philip Clouts' superbly accomplished quartet.
Clouts was born in Cape Town and the music of his homeland has stayed with him as he has continued on a voyage of discovery that has led him across all five continents, soaking up Caribbean calypso and the soulful strains of the Indian subcontinent while honouring and learning from jazz heroes including Bill Evans, Keith Jarrett, and Charles Lloyd.
As a key member of the popular London-based world jazz ensemble Zubop and its offshoot ZubopGambia, a collaboration with BBC World Music award-winner Juldeh Camara, Clouts created a solid body of work with African roots and since moving to Dorset in 2006 he has responded to his new surroundings with impressionistic compositions that complement and chime with his world music interests, resonating with folky themes and packing pungent rhythmical punch.
Following on from the critically acclaimed releases Sennen Cove and The Hour of Pearl, the new CD Umoya captures this wide-ranging music superbly and in concert, Clouts, saxophonist Samuel Eagles, bassist Alex Keen and drummer Dave Ingamells bring it alive with tremendous imagination, vim and vigour.