Event Phone: 01890 750099
We're sorry, but all tickets sales have ended because the event is expired.
26th October 2017




7:00 pm - 9:00 pm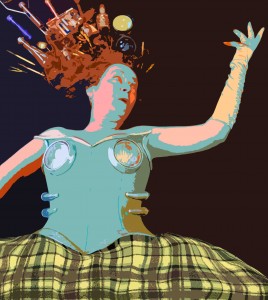 Frances M Lynch with electric voice theatre presents 
Scottish Superwomen of Science – Minerva Scientifica
2016 Three Weeks Editor Award-winner Frances M Lynch returns to Eyemouth Hippodrome with her new Scottish-focused music-drama, featuring composers and scientists collaborating to tell stories of Scottish women scientists. The performance follows a 5 star run at Scotland's oldest Italian deli, Valvona & Crolla (Venue 67), for Fringe 2017.
The performance  will  feature the world premiere of "Stormsong 1881" – a suite of meteorological music, based on the estimated three-hourly weather observations for Eyemouth provided by meteorologist Marjory Roy and written and performed by Eyemouth High School Students. There will also be  a short talk…. TASTY CRABS – bridging Scotland and Brazil…. by Dr Karen Diele  (Edinburgh Napier University & St Abbs Marine Station)

About Scottish Superwomen of Science
Scottish Superwomen of Science celebrates breakthroughs by Scottish women scientists in genetics, computing, marine biology, communications, engineering and more. Some of the scientists, like Burntisland's Mary Somerville, are already famous, others are less well known, like Dundee astronomer Williamina Fleming, Fife ornithologists Leonora Rintoul and Evelyn Baxter, Glasgow protozoologist Muriel Robertson, Errol marine engineer Victoria Drummond, and Ayr mathematician Marion Gray, all of whom appear in contrast to women working in science today.
Their stories are interwoven with music by Scottish women composers – traditional and classical – whose work is rarely acknowledged, like Helen Hopekirk (styled the second Clara Schumann), Alicia Scott (composer of "Annie Laurie") Marie Dare and Isabella Scott Gibson (Dark Lochnagar). There is new music by living Scottish composers and Primary 6 children from Canal View Primary School, Wester Hailes, co-created with women scientists from Edinburgh Napier University.
Scottish Superwomen of Science is inspired by the research of Science Curator Catherine Booth from the National Library of Scotland and features line drawings by Amy Whiten, scrap metal sculptures by Kev Paxton and a new Responsive Mobile Website www.superwomenofscience.co.uk
"Women are under-represented in science," said Frances M Lynch. "Through Scottish Superwomen of Science, we want to tell inspiring stories of women who have succeeded against the odds, to inspire the next generation of women to smash through the glass ceiling."
Scottish Superwomen of Science is part of electric voice theatre's Minerva Scientifica, (patron: Judith Weir, Master of the Queen's Music) an evolving music-theatre programme and research project pairing women scientists and women composers which has reached an audience of thousands over the last 4 years. Their first album on First Hand Records was released last year, telling the story of Rosalind Franklin and her work on DNA.
About TASTY CRABS – Bridging Scotland and Brazil
Edible crabs are not only captured by the millions in the UK and across Scotland, but also in tropical Brazil, where they provide the income of thousands of fishers. Karen Diele from Edinburgh Napier University and St Abbs Marine Station (members of the Marine Alliance for Science and Technology for Scotland) has been researching iconic Brazilian mangrove crabs for over 15 years, working closely with local colleagues and fishers. They have unravelled that the crabs can precisely predict forthcoming peak high tides, helping them to synchronize their mating. Fishers are supporting this research by using a smartphone app to tell Karen when the crabs are mating, which is important to help optimize their fishery in the long-term.
Storm Song