Event Phone: 01890 750099
We're sorry, but all tickets sales have ended because the event is expired.
25th April 2018




8:00 pm - 10:00 pm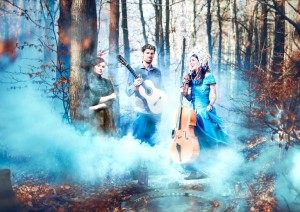 A new Romani musical journey full of spiritual intensity, catharsis and joy by one of the UK's most instinctively expansive musical figures, Simon Thacker (classical guitar), with the much admired Polish cellist Justyna Jablonska and  and leading Roma exponent singer/violinist Masha Natanson.
Building on one of the world's great song traditions as well as his own pioneering experiences across the world, Thacker draws on and extends European, Indian and Balkan folk forms, and of course flamenco, on a mystic road to new soundworlds in music. Contrasting his vivid re-imagining of powerful songs in Romani, Romanian, Serbian and Russian from the gypsy tradition with wonderfully inventive new instrumental music, Songs of the Roma is an exploration of traditional Roma themes such as birth, death and love, the search for lost roots and the changing role of women in traditional societies.
Simon Thacker is a composer, classical guitarist and ensemble leader who is firmly established as one of Scotland's most vibrant cross-cultural musical voices, having been selected for the Made in Scotland showcase, where Songs of the Roma premiered in 2016, representing the country at the Edinburgh Festival Fringe in each of the last three years. He has performed at major festivals in India, Pakistan and Bangladesh, most recently for an audience of 60 000 in Dhaka.
Cellist Justyna Jablonska has studied with Peter Dixon (Principal Cello, BBC Philharmonic Orchestra); William Conway(Hebrides Ensemble); and Eric-Maria Couturier (Ensemble Intercontemporain, Paris). In 2014 and 2015 she was selected for Lucerne Festival Academy, and worked alongside Sir Simon Rattle and Isabelle Faust. Simon and Justyna have been performing together since 2013, touring extensively.
Masha Natanson is an outstanding Polish Roma singer and violinist who inherited her passion for traditional music largely from her mother. At the age of 15, Masha left home in search of the genuine traditional music of the Carpathians, and the Gypsy communities of Eastern Europe. As a result, she has acquired a huge repertoire of authentic European traditional song, gathered in the course of extensive travelling, collecting and performing.
Adding another layer to the ancient history of Romany music, Songs of the Roma promises a moving and fascinating travelogue through an astonishing world of new sounds and sensations.
Supported by Creative Scotland
REVIEWS:
"Manages to be spiritual, intellectual, technical and emotional all at the same time… absolutely not to be missed." 7Ahead
"Another stage in the journey of the music of the Roma people" ThreeWeeks *****
"The term "world music" uttered in today's time and space has come to mean very little, but in Simon Thacker it has been reborn, in his epic sojourn that takes him – like an ancient Roma traveller from India, through Spain and finally northwards to Scotland." World Music Report (Canada)
" Simon Thacker hasn't re-interpreted world music (more accurately traditional music forms from Scotland to India and many points of Roma gypsy travels between). He's completely reinvented it." FabricationsHQ