Event Phone: 01890 750099
We're sorry, but all tickets sales have ended because the event is expired.
26th May 2018




8:00 pm - 10:00 pm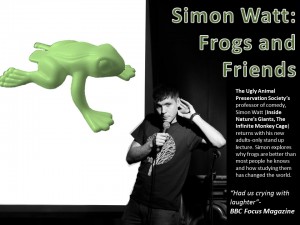 The Ugly Animal Preservation Society's professor of comedy, Simon Watt (Inside Nature's Giants, The Infinite Monkey Cage) returns with his new adults-only stand up lecture.  Simon explores why frogs are better than most people he knows and how studying them has changed the world!
Simon Watt is a biologist, writer, science communicator, comedian and TV presenter.
He runs 'Ready Steady Science', a science communication company committed to making information interesting and takes science-based performances into schools, museums, theatres and festivals.
He runs the 'Ugly Animal Preservation Society', which is a comedy night with a conservation twist.  It went on to find global notoriety when it teamed up with the National Science and Engineering Competition to host an online campaign resulting in the election of the Blobfish as the ugliest animal on the planet.
His book 'The Ugly Animals: We can't all be Pandas!' is out now.
He has also written dozens of articles for national newspapers and websites including The Times, The Sunday Times, The Sun, The Daily Telegraph, The Independent, The Daily Mirror and the New York Daily News.
He is a regular contributor to TV, radio and the internet and is perhaps best known as presenter on the BAFTA winning documentary series Inside Nature's Giants, The IFTA winning Wild Cities and the Channel 4 special The Elephant: Life After DeathSimon Watt thinks frogs are among the most fascinating and freaky species on our planet. There are frogs that are among the most lethally poisonous animal on earth, frogs that break their bones and pierce their flesh to act as knives, frogs that soar through the skies and even frogs that can survive freezing.
Frogs are useful too and studying them has led to some surprising benefits for us. Research into their biology has helped create the first pregnancy tests, cloning technology, psychedelic drugs, potential cures for cancer, magnetic levitation and a new wave of antibiotics.
Frogs might be brilliant but, sadly, they are dying out.  In this comedic lecture Simon Watt explored why frogs are better than most people he knows and how studying them has changed the world.
This event is suitable for adults only.
.