Event Phone: 01890 750099
We're sorry, but all tickets sales have ended because the event is expired.
3rd June 2017




8:00 pm - 10:00 pm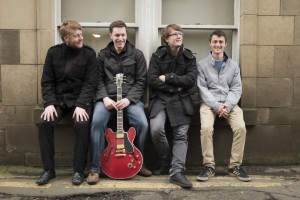 Square One is an exceptional young jazz quartet from Glasgow, known for creating refreshing new possibilities in free-spirited jazz through their energized performances and an outstanding debut EP.
The group has quickly grown from a collaboration at the Royal Conservatoire of Scotland (RCS) in 2014 into an exciting new prospect on the contemporary jazz circuit. Their potential was nationally recognized in December 2015 when Square One became the proud recipients of the Peter Whittingham Jazz Award, administered by Help Musicians UK. This prestigious prize will allow Square One to record their debut album, 'In Motion', to be released in October 2016.
Square One constitute a four-cornered, democratic discussion in liberated jazz between Joe Williamson on guitar, Peter Johnstone on piano, David Bowden on bass and Stephen Henderson on drums. Their music draws inspiration from contemporary folk, fusion, soulfulness, ECM euro-cool and stylish, straight ahead jazz. However, it is a clear affinity with great melody and the intelligent musical rapport between these four musicians Square One much more than the sum of all these parts.
Jazzwise magazine has described them as "Stirring and Dynamic", while Radio 3's Julian Joseph remarked that Square One are "A soulful and empathetic band with an irresistible charisma…they dominated the room from beat one".
The group's 2015 EP confirms that such commendations are justified. All the evidence required is contained in forty-five minutes of great tunes with articulate interplay and tremendous improvisational daring, but there is considerable intensity too. It is this latter attribute that perhaps excites jazz pundits most about Square One. It suggests that the jazz heritage is not only respectfully preserved by a new generation of professional musicians – it's very much alive and kicking.
Square One has performed regularly across Scotland, and has ventured further afield in the UK where fans of great jazz have already warmed to four rising stars of Scotland's productive jazz community.