Event Phone: 01890 750099
31st October 2018




8:00 pm - 10:00 pm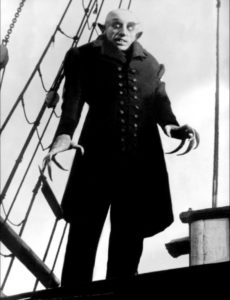 ABOUT NOSFERATU
"The frightful shadow of the vampire slides up a staircase to the reverberating strains of electric guitar … The grainy images flickering on screen are vintage, but the musical accompaniment is as contemporary as you can get: welcome to the world of guitarist Graeme Stephen, a widely respected guitarist on the Scottish jazz scene who in recent years has been turning his compositional talents to "live" scores which he and colleagues perform for silent movies" – The Scotsman
ABOUT GRAEME STEPHEN
"Stephen's daring writing and willingness to complement conventional lyricism with sonic experiment makes for a powerful experience, fiercely driven at times but often subtly impressionistic, with rock and folk influences and electronic effects all judiciously woven into the soundscape" – Kenny Mathieson, The Scotsman 
The Go Get It Trio
The Go Get It Trio, which is jointly led by Graeme and Scotland's über drummer Tom Bancroft and features Brazilian bassist Mario Caribé and , is making waves with performances in concert settings. The same three players regularly play in cinemas where their renditions of Stephen's acclaimed compositions of silent film scores for Nosferatu, The Cabinet of Dr Caligari, Faust and The Navigator have been delighting audiences since 2011.
"Nosferatu is the mother of all vampire films and creates great source material for Graeme Stephen's new score. The film still retains the power to spook an audience today"
Join us for a Halloween Night Special concert. Spooky dress optional!