Event Phone: 01890 750099
We're sorry, but all tickets sales have ended because the event is expired.
21st October 2017




8:00 pm - 10:00 pm
The XPQ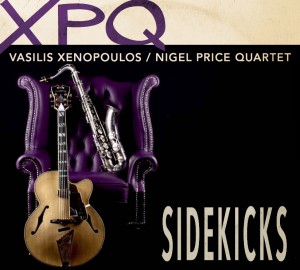 (Xenopoulos/Price Quartet)
For almost a decade Nigel Price and Vasilis Xenopoulos have established a strong musical partnership through their shared stylistic and artistic connections.
Their new album "Sidekicks" is a compilation of jazz standards, where each one of them pays homage to some of the greatest guitar/saxophone collaborations in the history of Jazz such as Jim Hall/Sonny Rollins, Wes Montgomery/Johnny Griffin, Kenny Burrell/Stanley Turrentine, Stan Getz/Charlie Byrd and from the UK jazz scene Dave Cliff/Geoff Simkins and the legendary Morrissey/Mullen.
line up
Vasilis Xenopoulos Tenor Saxophone
Nigel Price Guitar
Mick Shoulder Bass
Russ Morgan Drums
Over a career spanning more than 25 years, award winning jazz guitarist Nigel Price has become widely acknowledged as one of the hardest working musicians in the business.
Musically, his blend of flowing bebop lines, deep blues sensibility and his mastery of chording continue to delight audiences and fellow musicians alike. His career highlights include a support show for Gladys Knight at The Royal Albert Hall and an appearance on Van Morrison's recent album Keep Me Singing.
Starting his professional career in his early 20s, Nigel toured Europe with various reggae and funk bands before settling on a solo guitar career and turning his attention to jazz. Citing early influences as Wes Montgomery, Joe Pass, John McLaughlin and the Mahavishnu Orchestra, Nigel honed his craft by attending gigs and sitting in with the players of the time.
Nigel has played on more than 50 albums including 5 as a leader, spent ten years with acid jazz outfit The Filthy Six, was a member of James Taylor's band for 3 years (with whom he recorded 5 albums) and performed with the legendary David Axelrod.  He has also taught at The International Guitar Foundation at King's Place, London.
He has worked tirelessly to organise his own tours (including a 56 date tour in late 2016) and has picked up a Parliamentary Jazz Award (Best Jazz Ensemble, 2010), a nomination for a British Jazz Award (Best Guitarist, 2014) and a British Jazz Award (Best Guitarist, 2016) along the way.
Nigel is a regular performer at London's Ronnie Scott's Jazz Club where he has made more than 500 appearances.  He released his fifth Organ Trio Album
Heads & Tales Volume 2  in late 2016 to great critical acclaim.
PRAISE FOR HEADS & TALES (VOLUME 2)
"Nigel Price is probably the most dynamic and gifted guitarist on the British jazz scene today and this is the proof."
★★★★  All About Jazz (full review)
"Inventiveness, originality and ensemble playing are terrific."
★★★★ The Observer (full review)
"It's the group music – with Hammond organist Ross Stanley a treat as always – that packs the set's real punch."
The Guardian
"This is just about as good as it gets whether you're into guitar, organ, sax, drums or simply great jazz."
Bebop Spoken Here (full review)
"It's the buoyant, irresistible group swing of every tune that really lifts this above other releases in the genre."
Jazz Views (full review)
"Swinging and inventive music all the way through."
Northern Echo
Saxophonist Vasilis Xenopoulos was born in Athens and started playing clarinet and piano at 9 years of age. He started on the saxophone at 13, and continued his music studies at the Philippos Nakas Conservatory in Athens. He showed great potential from the very early stages of his student years and gained a great deal of experience by playing with some of the top names in the Greek jazz scene.
In 1999 Vasilis was awarded a jazz scholarship to the prestigious Berklee College of Music in Boston MA. There he studied under Billy Pierce, George Garzone and Andy McGhee.
In the same year he represented Greece in the European Jazz Youth Orchestra and toured with them in many European countries.
By 2002 Vasilis had moved to London and continued his studies under the guidance of Eddie Harvey, Stan Sulzmann, Jimmy Hastings and Pete Cook.
Vasilis has appeared in many guises, as guest soloist, as band leader or as saxophone section leader in jazz venues and jazz festivals throughout the UK. He is currently lead tenor in the Steve Taylor Big Band, and in the Ealing based Sound of 17 Big Band.
His explosive style means he is in great demand as a saxophone player for popular music and as a session musician.