Event Phone: 01890 750099
1st May 2020




8:00 pm - 10:00 pm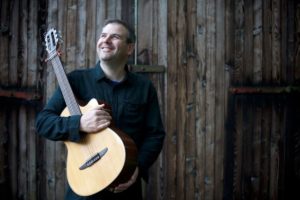 Tim Edey (BBC Radio Two's Musician of the year 2012 (BBC R2 FOLK AWARDS) multi- instrumentalist and singer, has toured the world and recorded with most of the major names in Celtic/Contemporary roots music including; The Chieftains, Christy Moore, Sharon Shannon, Ross Ainslie, Natalie MacMaster, Donnell Leahy, Altan, Capercaillie, Brendan Power, Michael McGoldrick, Seamus Begley, Dougie Maclean, Kevin Burke, Liam O'Maonlai, The Barra MacNeills, JP Cormier, Shaun Davey, Session A9, Lunasa, Vinnie Kilduff , Mary Black, Session A9, Julie Fowlis, Frankie Gavin to name but a few…
​Tim now a name on the world stage in his own right after seventeen years of hard work, is rated by many to be one of the world's finest ever Melodoen and Guitar players in the folk & contemporary scene today!
Originally from Broadstairs in Kent and of Irish descent. Tim honed his style learning from his father Richard a fine guitarist and listening to Ed Boyd, Steve Cooney and Django Reinhardt. He has lived in Ireland and now resides in Perthshire, Scotland where he is based with his family and tours all over the world regularly from.
​
Tim's live solo shows are a stunning mix of world music inspired instrumental virtuosity and passion with a strong Celtic theme, to audience – chorus lines and above all a highly entertaining night of musical genius.
"Musical genius doesn't really cover it. Probably one of the finest musicians on the acoustic music scene today, a joy to work with!!!" (Richard Lindsay, Director, Ullapool Guitar Festival – 2018).
Tim played at London's Kalamazoo Klub, (April 12 2019) …
"If ever a man lives up to the hype it is Tim Edey We ran out of superlatives! An astonishing picker, performer and personality".
STOP PRESS: Tim will be joined by Ross Ainslie for this concert
Ross Ainslie is one of Scotland's finest traditional musicians and composers, playing pipes, whistles and cittern. He is renowned for his highly acclaimed solo material, and as a skilled performer and prolific collaborator. As well as his partnership in the award winning 'Ross and Ali' with lifelong friend Ali Hutton, Ross is also a founding member of Scottish folk supergroup Treacherous Orchestra and appears regularly with Jarlath Henderson, Blue Rose Code, Dougie MacLean and Hamish Napier.
"Ross Ainslie is probably Scotland's most sought-after piper." The Scotsman. "…ridiculously talented" The Herald.