Event Phone: 01890 750099
We're sorry, but all tickets sales have ended because the event is expired.
15th November 2017




8:00 pm - 10:00 pm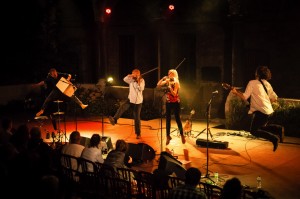 In an age where the word "folk" encompasses everything from acoustic pop to hardcore traditional music, the use of such labels to distinguish one musical experience from another has arguably been stretched farther than ever.
The Urban Folk Quartet's distinguishing features have much less to do with the traditional idea of genre. Yes, this is fiddle-led music that draws heavily from celtic dance forms and traditional song but from there on in it is unlike any folk band you have ever heard. Just as English country dance unassumingly met with big band jazz musicianship in the mid 20th century, The UFQ's approach to the folk ethos is to embrace any and every influence that genuinely makes sense of their time and place and makes sense in their music. From funk grooves to middle-eastern melodies, afrobeat to north Indian rhythms.
"A sizzling hot ensemble who fuse folk with elements of dub, house and rock with an ease that shouldn't naturally follow that list of genres. Built on the rhythms of a cajón-wielding percussionist and oud-playing bassist, the phenomenal fiddlers led the quartet in one of the tightest line-ups I have ever seen."– Olivia Haughton, Songlines
Following the success of their Live III album tour, The Urban Folk Quartet head back out on the road for a series of shows that will see the band travel from the South of Devon to the Scottish Borders.
The 2016-2017 Live III tour was The UFQ's longest and most successful to date, seeing the quartet perform to larger audiences across the UK, Scandinavia and Europe. Highlights included the launch their third live collection, the aforementioned Live III, at Kings Place, London, and co-headlining the Imagined Isle festival at Birmingham's historic Town Hall – their biggest hometown appearance.
In between, the fiery foursome found themselves on a Normandy beach during Armistice Day, attempted to spread the notion of ceilidh/ rave dancing to the Swiss and the French, and played at a micro-brewery in Somerset. Elsewhere, a trip to a leading Danish music festival, where they shared the bill with massive Danish electro rockers Carpark North, US AOR outfit Toto, Scottish legends Runrig, and '70s Euro disco icons Boney M, concluded with them sleeping in a warehouse after an accommodation mishap. But that's what happens when you play huge festivals!
Formed in 2009 in the West Midlands, The UFQ have continued to forge a reputation as one of the UK's most consistently stunning live acts, and boast four highly accomplished musicians: BBC Folk Award nominated banjo player (and occasional UFQ vocalist) Dan Walsh; Galician fiddle player Paloma Trigás, who's worked with the likes of The Chieftains, Sharon Shannon, Altan, and Carlos Nuñez, Spain's biggest folk star; percussionist Tom Chapman, widely considered to be the UK's most accomplished and innovative cajón player; and fiddler, guitarist, mandolin player and producer/ arranger Joe Broughton (The Albion Band, Fairport Convention etc).
In their eight year career, the band have released three studio albums and three live albums, the latter of which aim to showcase the energy audiences witness at their dazzling live performances.
A new, yet to be titled, studio album will be released in 2018, in the run-up to The UFQ's tenth anniversary celebrations.
"This autumn tour will find The UFQ at their most spontaneous," says Joe. "It's the first time in the band's history that we'll be gigging and not promoting a specific album. That gives us the freedom to play whatever we like – not just focus on promoting the latest record. So expect to hear some exciting new variations of recent tracks as well as a few new tunes which we'll be road testing for that next studio album."