Event Phone: 01890 750099
We're sorry, but all tickets sales have ended because the event is expired.
28th February 2019




8:00 pm - 10:00 pm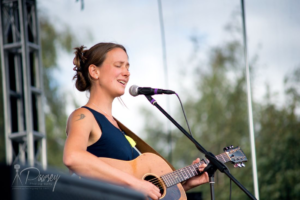 It's unusual to find someone who's as good a songwriter as an instrumentalist. Vera van Heeringen is that person. A consummate guitarist, highly acclaimed by her contemporaries, she brings the instrument to life in way that is entirely her own. Vera also writes  songs and tunes which deliver straight to – and from – the heart. Firmly rooted in Transatlantic traditions, her original contemporary Americana showcases both these skills: firebrand instrumental virtuosity and poignant, emotionally astute songwriting.
An early starter, raised in the acoustic music scene in her native Holland, Vera has been performing from the age of 16. Vera's debut album, Standing Tall, was released in 2012 and marked a change of direction after nearly five years of touring as part of the brilliantly comedic New Rope String Band. In 2015, Vera released her second album, Proper Brew, which features a roll call of top-drawer musicians who share her musical aesthetic – amongst them Tim O'Brien, Dirk Powell, Rayna Gellert and Kris Drever. Vera's currently working on her third album.
A compelling performer, Vera conveys an easy warmth on stage. Her live performances are intimate, understated affairs, allowing the music to speak for itself. Stripped back, potent, and full of groove. Outstanding flatpicking, fulsome fiddle playing, heart-breaking lyrics, assured natural vocal tone and driving tunes are all integral to the show.
"This lady oozes class "
— John Atkins, fRoots
"Not only can she write imaginative songs she can play the acoustic guitar better than most"
— Alan Harrison, NoDepression
"Her graceful playing is of the kind of a good malt, it tends to seep into ones soul, gently "
— Maurice Hope, Flying Shoes