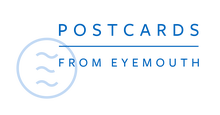 22nd April 2017 at 7.30pm
Produced and curated by Jacob Thompson-Bell and Nick Katuszonek, Postcards from Eyemouth presents an evening of brand new music and visuals inspired by photographs, sound recordings, and reflections on Eyemouth from local residents, collected through community meetings, postcard correspondence and workshops at the high school and primary school.
We've created musical scores in response to all the contributions we've collected, and we're bringing up 10 incredible musicians from Leeds to perform them. The event also launches our Postcards from Eyemouth exhibition, featuring the scores and contributions side by side. Hear unique musical performances and see how your reflections and perspectives have become part of our work.
You'll also be able to pick up copies of our limited edition postcard scores, specially released as part of the project.
Free admission but places are limited to 50 people: please book tickets via link or telephone the Box Office 01890 750099
See how the project is progressing with musicians in Leeds here.