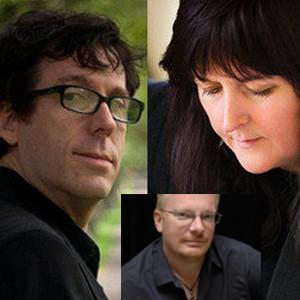 A rare female in the male dominated world of jazz composers and songwriters, singer and songwriter Sophie Bancroft is collaborating with award-winning American jazz pianist Louis Durra and bassist Tom Lyne in a fabulous line up to start the New Year.
Sophie's jazz pedigree includes brothers Tom and Phil Bancroft, both innovative and successful jazz musicians, her parents, who were semi-professional jazz musicians in their early years, and her great-grandmother Rose Bancroft, who was an established music hall entertainer in the early 1900's. Sophie's song Calgary Bay (written about the beautiful bay on the island of Mull) has recently been recorded by award-winning jazz vocalist Liane Carrolland the Prague Philharmonic Orchestra on her new, 5 star CD Ballads and sits alongside some of the great classics such as Noel Coward's Mad About The Boy and the Carey/Fischer jazz standard You've Changed.
Less well known, but equally rewarding is an interpretation of Sophie Bancroft's evocative Calgary Bay – MOJO
"A Scottish singer-songwriter with jazz and folk roots: Over the years she's drawn comparison to several world-class artists, including Peggy Lee, Alison Krauss and Norah Jones. That sort of information comes as no great surprise once you've had the chance to hear Bancroft sing. Her voice is a perfect instrument." Leicester Bangs
Tom, originally from Edmonton, Canada, moved to Europe after graduating from McGill University with distinction on jazz bass. His diverse roots, including old school R+B, psychedelic rock, experimental fusion and an early initiation in jazz and improvised music has created a melodic sensitivity and interpretive power in his playing. He capitalises on the unique colours and ranges of the double bass and electric 5 string in the sparse setting of the duo. Aside from working with Sophie he is the bassist in the Dave Milligan Trio, The Unusual Suspects and this own group The Band Lyne. Previous work has included Martha Reeves and The Vandelas, Charlie Hunter, Kevin MacKenzie, Karine Polwart and Brian Kellock.
Playing piano from the age of 12, Louis Durra became an overnight success on college radio after thirty years as a professional jazz musician. Developing his own take on the piano trio format with an eclectic repertoire of deconstructed pop, Durra has travelled a sharp-angled creative path leading to a Herald Angel Award from his appearance at the 2011 Edinburgh Fringe Festival and a USA radio jazz top five hit in June 2012. As an adult, Louis discovered that he'd been adopted. His birth-father turned out to have played reeds for the Gil Evans Orchestra, Lou Reed, and been part of The Insect Trust. Louis has developed a painstaking way of immersing himself in the music he performs by making use of his insomnia. He sits up in bed and transcribes music from audio with pencil and manuscript paper. He loves the subtle notes-and-rhythm choices vocalists make, and saturates himself in the sounds of great groups.
Spinning jazz gold from the unlikeliest material – HERALD.
"Gorgeous, original acoustic music" THE SCOTSMAN
"Refreshing and utterly magical" THE HERALD